Best Shot Doubles
Details
Created on Monday, 07 July 2014 01:52
Last Updated on Monday, 07 July 2014 02:05
Hits: 3206
Best Shot Doubles consists of teams of 2 players each. If random draw, then teams are picked at random by either flipping discs or by drawing playing cards. If "weighted", then teams are created using player averages and arranged so that players with highest averages are paired with players of lowest averages. This method is the most fair and gives all players an equal opportunity to win as a team.
This format is important to Flight Club because it allows newer players to see how seasoned players throw certain shots, what discs they use, and provide tips throughout play to help them develop while still giving them a fair chance at a win.
Before the round, each teammate chooses either odd or even holes as the hole they will drive on. This way players alternate who drives first on each whole throughout the round. Once 1 player tees off, the next player on the team tees off. Then the next team on the card take their turn the same way. What team tees off first is determined by normal tee order standards. Once all teams have taken their initial drives, players on each team identify their lie, and then the team determines which of the 2 lies they will take as their team lie. The teams determine who is out (disc farthest from basket), and the out team takes their turn. The opposite player of the disc the team has chosen takes the first throw, then the other teammate. These steps are repeated until at least 1 player on the team makes a shot into the basket (holes out).
Players then move to the next tee pad and mark their scores. Scoring on a Flight Club doubles card is very self-explanatory. Boxes are arranged for each team. Mark the teams stroke amount per hole in the respective hole number. Scores should be recorded upon arrival at the next tee pad for safety and to help the flow of play for following groups. Below is an example of a doubles Flight Club scorecard: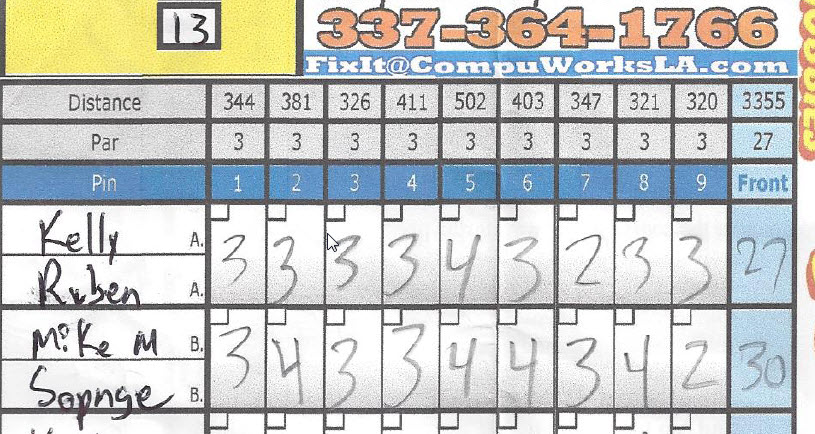 In best shot doubles the better lie out of each throw from a given team is taken during the round. Completed putts are considered the best shot.
Flight Club scoring for this format is as follows:
Per card: Players scoring the lowest on the card are awarded 6 points each and 2nd place is awarded 3 points each.
Per field: Top 3rd teams with the lowest scores of ever team are awarded cash or prizes.